Here is the group preparing to enter an underground world (and warm up).

Caveing is a fun part of winter campouts, especially when nature blesses us with ice formations such as these.

Lean to's are a critical item during windy weather.

Warming up around the campfire after some fine cross country skiing.

Chili has been a perennial staple in the WCHSB diet. It has staved off hunger, and served as a conversation piece.
Another WCHSB hot fire after a long day of recreation.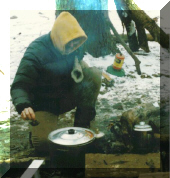 Due to close supervision, no one has ever gone hungry on a WCHSB campout.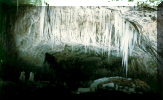 This is an outstanding photograph. YOU HAVE TO CLICK ON THIS TO SEE IT!